THE UBC OKANAGAN CAMPUS PLAN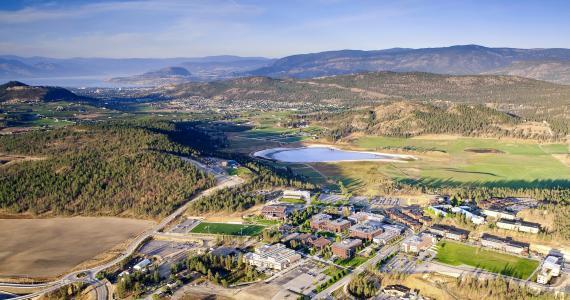 UBC is updating its 2009 Okanagan Campus Plan to address campus development needs.
The current UBC Okanagan Campus Plan (2009 UBC Okanagan Master Plan) was designed to meet projected development needs over a 20-year time frame. Since the 2009 Campus Plan's adoption, the campus has met its growth projections, with student enrolment more than doubling, and campus floor space nearly tripling since 2005. Having reached 2009 Campus Plan capacity, an update is required to accommodate future growth. Given the growth patterns of the city, the region and the university, it is not unreasonable to anticipate another potential doubling of the campus population within the next 20 years.
The intent in updating the Campus Plan is to help manage future campus growth in a way that best supports the University's academic mission, as articulated in Place and Promise and Aspire.
In the subsequent webpages you will find information on:
Phase 2 Public Consultation
Phase 2 of public consultation on The UBC Okanagan Campus Plan ran from January 26 – February 6 online and also included five on-campus events:
A public open house on Wednesday, January 28, 2015 10:00am – 2:00pm at Fipke Centre, Main Level Foyer, 3247 University Way
The Campus Plan Ideas Fair (held on two days and locations), on Tuesday, February 3, 2015 11:00am – 2:00pm at University Centre, Main Level Foyer, 3272 University Way and on Wednesday February 4, 2015, 11:00am – 2:00pm at Administration Building, Main Level Atrium, 1138 Alumni Avenue
Two Campus Plan Workshops, on Thursday, February 5, 2015 from 10:00am – 12:00pm and 2:30pm – 4:30pm at University Centre, 200 Ballroom
During the open house, participants found out more about the Campus Plan, and provided their input on the draft Campus Plan update. Participants dropped in at the Ideas Fair to share their ideas on the draft Campus Plan and helped shape different places and activities on campus.  Workshop participants had in-depth discussions about programming places for the types of activities and experiences they would like to see on campus.
A final version of The UBC Okanagan Campus Plan will be drafted after reviewing the input we received from Phase 2 public consultation, stakeholder input, technical analysis and the work done to date.  The final Campus Plan, including the Phase 2 Public Consultation Summary Report, will be posted on the project website and circulated to the community. It is expected that the plan will be presented to the Board of Governors and to the campus community in the summer of 2015. 
For additional information on the project, contact: Abigail Riley, Associate Director, Campus Planning at abigail.riley@ubc.ca
---
Privacy Notification
The feedback received during this public consultation process may be made available for public viewing. Any personal information you provide during this public consultation process is collected under the authority of section 26(c) of the Freedom of Information and Protection of Privacy Act. UBC Okanagan Campus Planning and Development is collecting this information for the purposes of this consultation process. For more information about the collection of personal information, contact Abigail Riley, Associate Director, at (250) 807-9647 or by email at: abigail.riley@ubc.ca