The Transportation Plan will provide a 20-year roadmap for transportation at the UBC Okanagan campus.
The Plan will include transportation targets, strategies and supportive policies that will guide future transportation planning decisions, infrastructure investment, and programming for the community.
This Transportation Plan comes at a critical time in the evolution of the campus. It will provide the necessary roadmap for addressing future transportation and parking challenges, moving us towards more sustainable modes of travel to support ongoing campus growth, and helping deliver on a number of strategic priorities of the university, including our response to the Climate Emergency.
Key Facts
How People Travel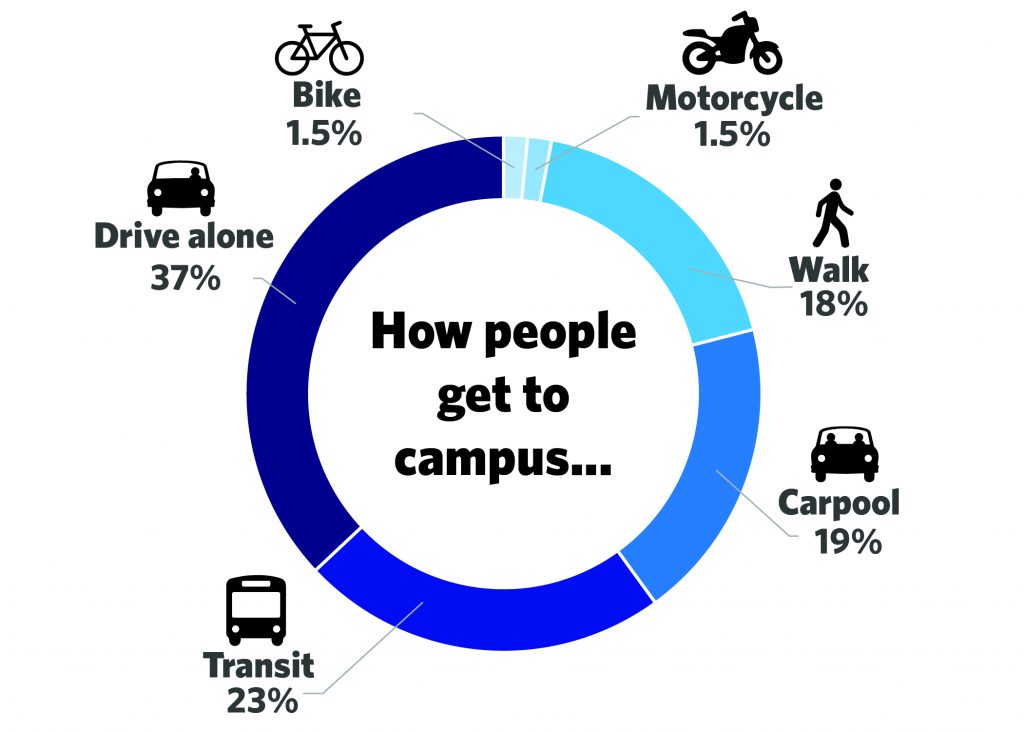 People get to campus in a number of ways: 37% drive alone in their car, 23% take public transit, 19% carpool, 18% walk, and 3% either bicycle or motorcycle to campus.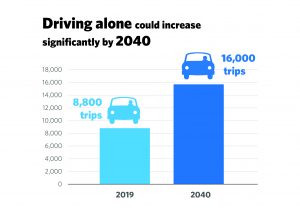 In 2019, over 8,800 daily trips were made to and from campus by people driving alone, representing 37% of all trips to and from campus. By 2040, under a high growth scenario, this number could increase to nearly 16,000 trips to and from campus by people driving alone.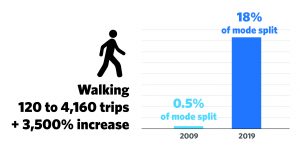 Walking to campus has significantly increased from 120 trips in 2009 to over 4,000 trips in 2019, raising the pedestrian mode share to 18%, which is momentous. This is attributable to the ongoing growth of the nearby Academy Hill neighbourhood and the implementation of a pedestrian overpass connecting campus to the neighbourhood.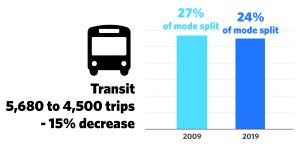 In contrast, transit use has declined between 2009 and and 2019, partly due to more people living within walking distance of campus and improved safe active transportation routes, but also because of low frequency / long wait times and neighbourhood coverage for buses making transit far less attractive compared to personal vehicle trips.
Challenges
Climate Challenge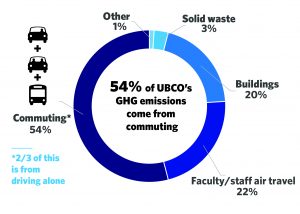 54% of UBCO's greenhouse gas (GHG) emissions come from commuting (which include emissions from driving alone, carpool and transit) and represent the largest component of the campus' total emissions. If travel behaviour remains at today's rates, by 2040, even with aggressive policies to support electric vehicle use, GHG emissions from commuting will continue to be the largest source of total emissions. Reducing emissions from commuting is a crucial part of UBC's climate emergency commitment, and a key part of UBC's Climate Action Plan 2030.
Parking Challenge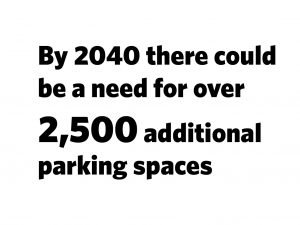 Continuing to build parking to solve the university's transportation problems is not a sustainable or cost-effective strategy. Aggressive and innovative approaches to curbing the need for additional parking to serve campus growth are needed.
The majority of commuters currently drive to campus alone. As the campus continues to grow, if this trend continues, by 2040 there will be a need for over 2,500 additional parking spaces. This is almost double the current amount of parking on the campus and would likely be infeasible to physically accommodate. Many parking lots are already at or over capacity at certain times of the day. Further, as the campus grows, existing parking lots at the centre of campus will be displaced by new academic buildings.
Parking lots are expensive to build and maintain. The typical construction cost of surface parking is approximately $10,000 per space and annual maintenance is around $400 per space. To build the estimated 2,500 new spaces needed by 2040, it will cost the university $25 million (in today's dollars). For comparison, the average annual revenue per stall at UBC is approximately $1,000.
Addressing the Challenges
A Transportation Demand Management Approach
In order to address the challenges ahead, the Transportation Plan will focus on a Transportation Demand Management (TDM) approach. The ultimate goal of TDM is to reduce single-occupancy vehicle trips and make it easier to walk, bike, share rides, use transit, or telecommute through tools, policies and strategies to help people plan and make alternative travel choices to, from and around the campus.