TRANSPORTATION & MOBILITY

Campus Planning responsibilities include transportation and mobility analysis and planning.
What's your ride? 2015 Transportation Survey – UBC Okanagan Campus
Survey Update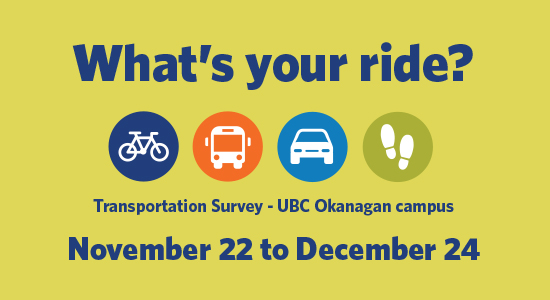 Between November 22 – December 24, 2015, Campus Planning conducted a voluntary survey of the campus community – students, staff and faculty. Over 2,500 responses were received, with a response rate of 24%.
Staff is presently analyzing the survey results, and will publish a report in spring 2016.
All survey participants were automatically entered into a draw to win one of 10 prizes of a $50 UBC Bookstore gift card.  All prize winners were contacted by e-mail. Below are some of the lucky prize draw winners!
About the survey
Open to all students, staff and faculty at UBC's Okanagan campus.
Invites sent to UBC and student email accounts November 22; the survey remains live until December 24.
Takes about 10 minutes to complete.
Participation is voluntary, but highly encouraged.
Results of the survey will be aggregated and no personal identification information will be used in results analysis.
Why survey now?
The last comprehensive transportation survey of the Okanagan campus was in 2009 (UBCO Transportation Survey – 2009) so there is a need to collect current commuter information.
Data will be used to understand future travel pattern changes that could result from upcoming road and cycling projects such as the City of Kelowna's John Hindle Drive extension from GlenmoreRoad to Highway 97 via UBC's Okanagan campus.
Information from the 2015 survey will be used to prepare for the upcoming UBC Okanagan Transportation Plan, as well as to inform day-to-day planning and upcoming campus projects.
Transportation Reports & Studies
Annual Transportation Status Reports
A biennial transportation data collection and monitoring program for the UBC Okanagan campus was initiated in 2009. The 2009 data are used as the "benchmark" conditions against which progress in future years can be measured. The reports present a summary of the data collected each year and provides a comparison to future years to identify changes in travel patterns and demands.
2009 UBCO Transportation Survey
This report presents the results of the 2009 UBC Okanagan Transportation Survey, which was undertaken in October 2009. This survey was conducted to identify transportation needs at the Okanagan campus and to inform transportation planning.
Traffic Management Plans
A Traffic Management Plan (TMP) is required in cases where any work or activity impacts circulation and access on the UBC Okanagan campus for pedestrians, cyclists, public transit and motor vehicles. The objectives of a TMP are to:
Maintain public safety at all times
Minimize impacts to the public domain particularly during peak university operating hours
Provide users with advanced warning of impacts and direct them to alternative routes if necessary.
A TMP is to be prepared by the project applicant and submitted to Campus Planning & Development (CPD) for review with UBC's Transportation Engineer for approval prior to initiating any construction activities as part of the development approval process.
Universal Accessibility
UBC is committed to improving the way students, faculty, staff and visitors access and navigate our campuses. Regardless of age, background, interest or ability, we want to remove any significant barriers that would prevent individuals from being able to participate as independent members of the campus community.
We recognize that accessibility is an integral part of being a safe, healthy, sustainable campus community, and that it plays an important role in the design and development of UBC's physical landscape and spaces. A truly accessible campus environment enables people of all abilities to lead full, active lives and thrive socially and intellectually.