Achieving the Plan's targets will require university-wide commitment and support, including associated funding and staff resources. The final Transportation Plan will be presented to the UBC leadership in December 2021.
Implementation
Through technical evaluation and targeted stakeholder engagement, each strategy will be assigned a priority and timeline of implementation. For the Plan to be successful, UBC will need to commit to continued monitoring and reporting on the progress made towards implementing each of these strategies and adjusting them in order to achieve the targets.
Compared with a "Business-As-Usual" (BAU) scenario, implementation of the Plan would reduce total trips to and from campus and ensure that the vast majority of growth in trips is accommodated via active and sustainable modes (walking, cycling and transit). A modest increase in automobile traffic to and from campus is also still anticipated even with this modal shift because of the considerable increase in campus population expected by 2040.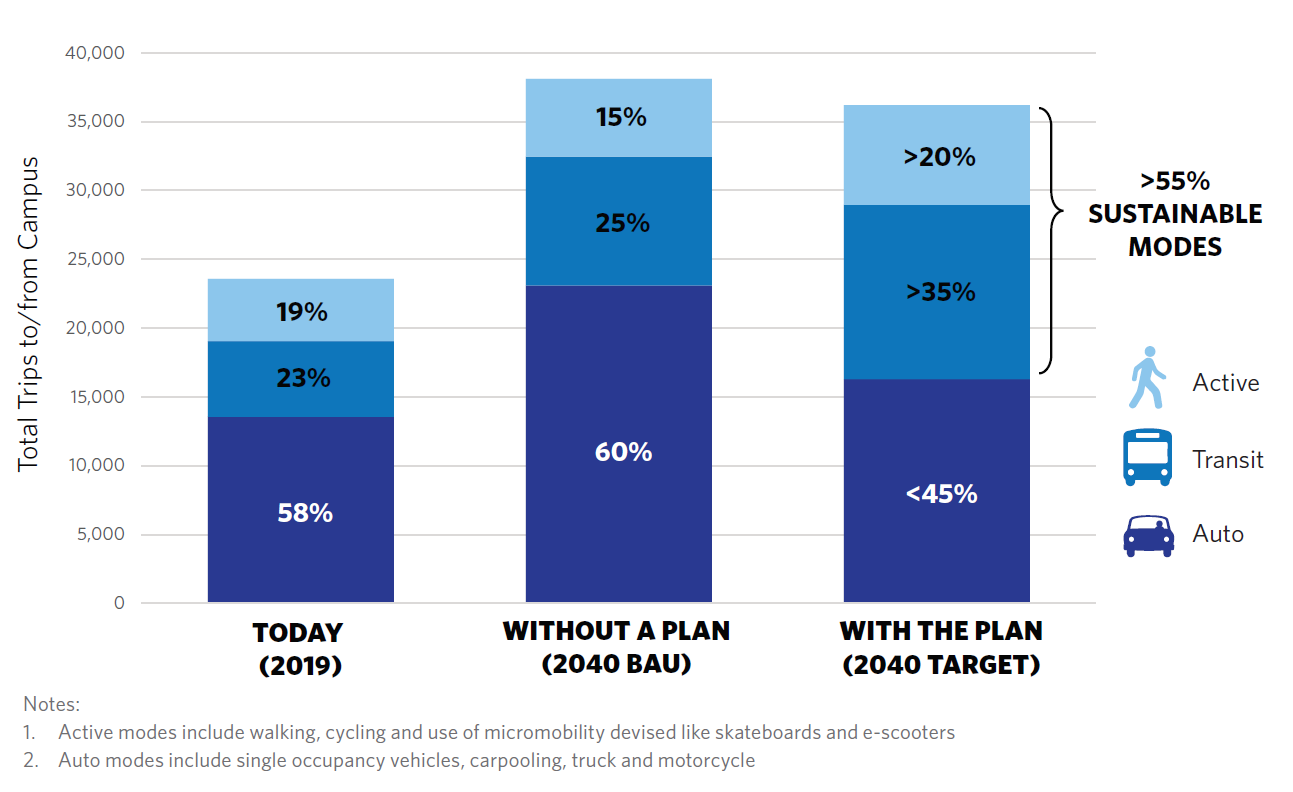 The result will be a dramatically reduced need for parking spaces on campus in 2040 (from a total of 5,000 spaces to 3,800 spaces). While this is still an increase over today's capacity of about 3,000 spaces (including the temporary H Lot overflow area), it represents considerable savings to the University in terms of required land and capital costs of future parking, which in turn significantly reduces the transportation costs for the campus community.
Monitoring Our Progress
Successful implementation of the suite of strategies is anticipated to achieve the proposed six Transportation Plan targets. These targets will be used to monitor the success of the Plan and to guide when adjustments are required:
Target 1: Increase Sustainable Transportation Mode Share

By 2040, at least 55% of all trips to and from campus will be by sustainable modes of transportation (walking, cycling, and transit)

Target 2: Reduce GHG Emissions

By 2030 total annual GHG emissions associated with commuting will be reduced by 40% of 2013 levels (the commuting target from Climate Action Plan 2030)

Target 3: Increase Transit Use

By 2040, at least 35% of all trips to and from campus will be by transit

Target 4: Increase Walking and Cycling

By 2040, at least 20% of all trips to and from campus will be by active modes (cycling and walking)

Target 5: Minimize Automobile Traffic

Through 2040, total daily automobile traffic to and from campus will not exceed 14,000 vehicle trips per day

Target 6: Increase the Share of Auto Trips made by Carpooling, Vanpooling and Ride-sharing

By 2040 at least 35% of all automobile trips to and from campus will be by carpooling, ride-sharing and vanpooling
Click here to read more about about the six targets and monitoring the progress of the Transportation Plan.