PROCESS AND REPORTS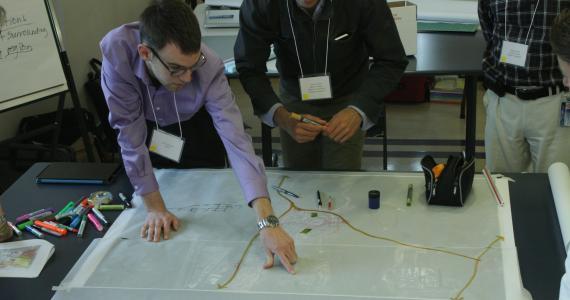 The UBC Okanagan Campus Plan update is being developed with involvement from a broad range of staff, technical specialists, and campus stakeholders, with the goal of completion in summer 2015.
Timeline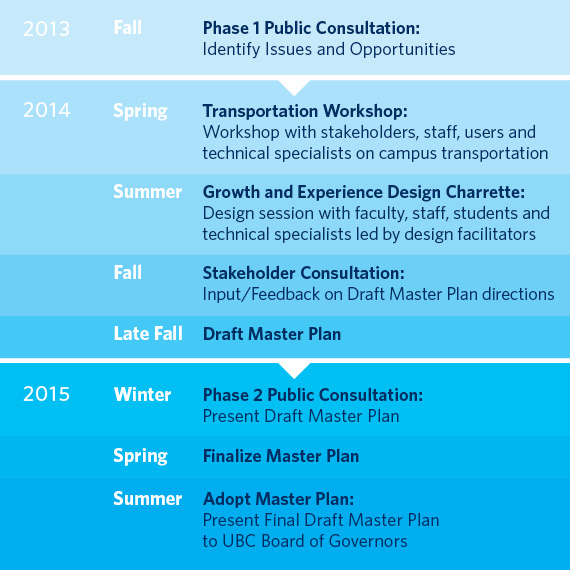 Process to date
Fall 2013: Public Consultation Phase 1 introduced UBC's Okanagan Campus Plan update process, and received public input on the issues to be addressed.
Spring 2014: Transportation Workshop with stakeholders and technical specialists assessed campus transportation issues and opportunities.
Summer 2014: Growth and Experience Design Charrette was held with UBC staff, student representatives, stakeholders, and technical specialists. These sessions built on input from the Public Consultation Phase 1 and Transportation Workshop, and led to the preparation of draft Campus Plan emerging directions.
October–November 2014: The draft Campus Plan emerging directions were refined in consultation with stakeholders. In parallel, technical work on the transit hub, and a whole systems infrastructure framework, helped inform further development and testing of the emerging directions.
December 2014: The draft Campus Plan was presented to the Board of Governors.
How are we updating the Campus Plan?
The UBC Okanagan Campus Plan update is based on the 2009 UBC Okanagan Master Plan and is being informed by a series of technical studies and workshops, consultation with stakeholders and the public, as well as input from staff and the Campus Plan Steering Committee.
Key elements guiding the planning process include:
People:
Campus Plan Steering Committee
Phase 1 Public Consultation (Fall 2013)
Staff and Technical Expertise
Key Stakeholders
Phase 2 Public Consultation (Winter 2015)
Documents and Technical Studies
Technical Studies, Reports and Plans:
Phase 1 Public Consultation (2013)
A Public Consultation Summary Report, and links to full transcripts of stakeholder and general public feedback are available below:
Next Steps
A final version of The UBC Okanagan Campus Plan will be drafted after reviewing the input we receive from Phase 2 public consultation, stakeholder input, technical analysis and the work done to date.
The final Campus Plan, including the Phase 2 Public Consultation Summary Report, will be posted on the project website and circulated to the community.
It is expected that the plan will be presented to the Board of Governors and to the campus community in the summer of 2015